Multicarts! For the Famicom! If you have any experience with these things, you no doubt know the perils of high stated game counts, where just about anything above a 50 in 1 is likely to contain repeats, and anything above 10 frankly could still be suspicious. But not anymore! A welcome trend coming out of China recently has been to release Famicom multicarts with game counts running up to the 100s that actually have the stated number of games on them! (more or less) And I have a couple of them here - let's start with this 198 in 1: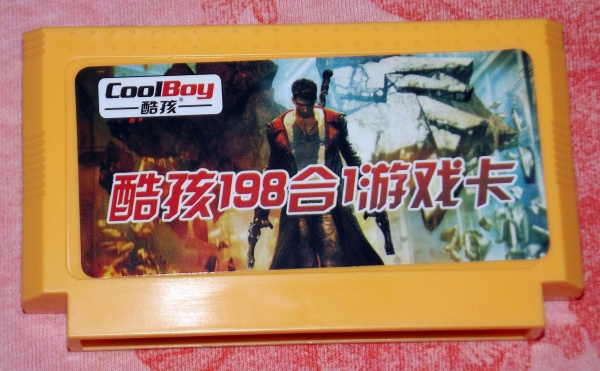 This one was released under the CoolBoy brand (酷孩); some previous carts (including other high-capacity multicarts and reissues of Waixing games) were released by a company called Fuzhou Coolboy Electronics Co., Ltd (福州酷哥电子有限公司) but the Chinese name is different (酷哥 kù gē rather than 酷孩 kù hái) and seemingly this is not the same outfit, because when you turn it on you see: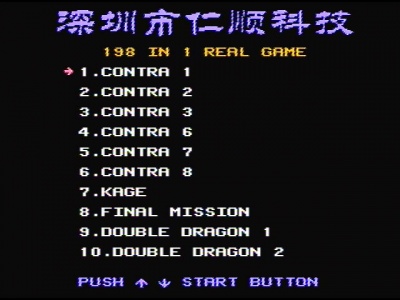 The menu credits "深圳市仁顺科技", Shenzhen Renshun Technology - a different company doing very similar things under a very similar brand. Presumably either they're connected somehow or one ripped off the other.
A piece of paper was included with the game list in Chinese, which is nice, if you can understand it: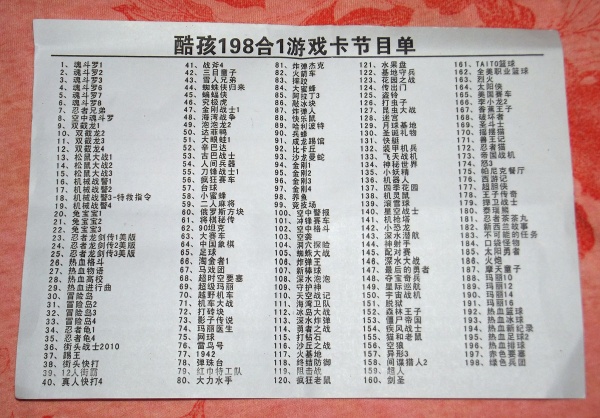 for those of you who can't, here's the full game list in English, as it appears in the menu:
CONTRA 1
CONTRA 2
CONTRA 3
CONTRA 6
CONTRA 7
CONTRA 8
KAGE
FINAL MISSION
DOUBLE DRAGON 1
DOUBLE DRAGON 2
DOUBLE DRAGON 3
DOUBLE DRAGON 4
CHIP & DALE 1
CHIP & DALE 2
CHIP & DALE 3
ROBOCOP 1
ROBOCOP 2
ROBOCOP 3
ROBOCOP 4
TINY TOON 1
TINY TOON 2
TINY TOON 3
NINJA GAIDEM 1
NINJA GAIDEM 2
NINJA GAIDEM 3
HOT BLOOD WRESTLE
HOT BLOOD STORY
HOT BLOOD SOCCER 1
HOT BLOOD MARCH
ADVENTURE ISLAND
ADVENTURE ISLAND 2
ADVENTURE ISLAND 3
ADVENTURE ISLAND 4
NINJA TURTLES 1
NINJA TURTLES 4
STREET FIGHTER 201
KICK MASTER
MIGHTY FINAL FIGHT
STREET FIGHTER
MORTAL COMBAT 4
ASTYANAX
THREE EYES BOY
SNOW BROS
SPIDERMAN
BATMAN
KYUUKYOKU TIGER
POWER RANGER
GULF WAR
BUBBLE BOBBLE 2
DARKWING DUCK
KERO KERO KEROPPI
ARABIAN
GUERILLA WAR
DEAD FOX
POWER BLADE 1
ZIPPY RACE
LUNAR BALL
GALAXIAN
MAHJONG 2
TETRIS 2
NAITOU
TANK 90
F1 RACE
CHINESE CHESS
SOCCER
LODER RUNNER
CIRCUS CHARLIE
MACROSS
SUPER MARIO
EXCITE BIKE
MACH RIDER
ARKANOID
LEGEND OF KAGE
DR. MARIO
TENNIS
STAR FORCE
1942
PINBALL
SKY DESTROYER
POPEYE
MIGHTY BOMB JACK
ROAD FIGHTER
MUSCLE
GALAGA
ALADDIN 3
ICE CLIMBER
BOMBERMAN
MAPPY
HARRY POTTER
TWIN BEE
SPARTAN X
PIKA CHU
GRADIUS
DONKEY KONG 1
DONKEY KONG 2
DONKEY KONG 3
DONKEY KONG 4
AQUARIUM
ARENA
AIR ALERT
AWFUL RUSHING
AIMLESS
BURBLES
BURROW EXPLORER
BUG'S WAR
BOMB KING
BASEBALL NEW
BUBBLE
CANNONADE
HITMOUSE
COAST GUARD
CUB ADVENTURE
DEPTH BOMB
DEVILDOM DOOM
DIAMOND
DUNE WAR
FIREBASE
FIRST DEFENDER
FIVE DAYS
FRANTIC MOUSE
FRUIT DISH
GALLAGANT
GARDEN WAR
GATE
HALLIHOO
HEXAPOD NEW
HEXAPOD WAR
LABYRINTH
LUNARIAN
MAD XMAS
MOTOBOAT
PANZER ATTACK
POBBLE
POLAR BAT
RURALGOBLIN
ROBOT
SEASON GARDEN
SHREW MOUSE
SNOWBALL
STAR FIGHTER
STRAFE
SMALL DINOSAUR
SILENT HUNTER
THE ARCHER
TWIN CARDS
UNDERSEA ARENA
WARRIOR
ABSCONDEE
AETHER CRUISER
AIM CRUISE
P.O.W
JUNGLE BOOK
ABARENB
ZOOM
TOM AND JERRY
AIR WOLF
ALIEN 3
SUPER SPY HUNTER
SUPERMAN
SWORD MASTER
TAITO BASKETBALL
ALL-PRO BASKETBAL
SUMMER CARNIVAL'9
INDIANA JONES
RACE AMERICA
BRUCE LEE 2
BANANA PRINCE
SHATTERHAND
SAINT
ROCKIN KATS
JUUOUKI
NINJA CAT
GUNNAC
IKARI 3
PANIC RESTAURANT
WHOMP'EM
WOLVERINE
THE LEGEND OF PRI
TOP GUN
TALESPIN
SQUASHED
NEWZEALAND STORY
MISSION IMPOSSIBL
MONSTER IN MY POC
GUN DEC
CONQUEST OF THE C
MARIO 10
MARIO 12
MARIO 14
WAR WOLF
HOT BLOOD BASKETB
HOT BLOOD ICE HOC
HOT BLOOD NEW REC
HOT BLOOD SOCCER
HOT BLOOD VOLLEYB
JACKAL
LIFE FORCE
RUSH'N ATTACK
The games listed in italics above are Chinese originals by the developer Nice Code Software; they're mostly fairly simple (their later games are better but sadly far less common) and I think most of them are dumped by now, but a couple of the more interesting ones that aren't (as far as I know) dumped are Season Garden and Zoom:
Season Garden is mostly your typical whack-a-mole game, Nice Code have certainly covered this territory before, but (as the name possibly implies) the seasons change and there are some cute touches like how the dude in the top left changes along with them.
Zoom is basically a fly-upwards-avoid-the-obstacles type of deal which later received a graphical overhaul and an extra "ing" in this VT03 version.
A few other things that aren't immediately obvious:
"Street Fighter" is inevitably the "Fighter Street VI 12 Peoples" version, which is one of the worse Street Fighter ports out there, but also the most common on multicarts :(
Super Mario Bros runs waaayy fast, I think too fast to even be the PAL version; it might be hacked somehow
Donkey Kong 4 is actually Donkey Kong Jr. Math; don't get your hopes up about it being the Hummer Team one or anything
"Pika Chu" is the Pokemon-themed Tetris game by Nice Code, also known as "Poke Tetris"
Harry Potter is the hack of Magic Carpet 1001 with really really really bad music
Gulf War is just the regular version of Silkworm
and Superman has had his copyright screwed around with: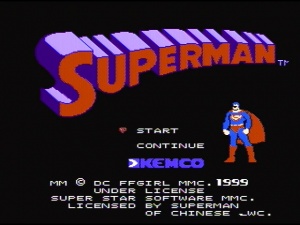 (If there are any others listed you aren't sure about, post a comment!)
All in all, it's a pretty great compilation, really. Almost every Kunio game! Recca! Banana Prince (the German version, no less)! A nice combination of popular games and obscure stuff, plus a selection of Chinese originals (which, okay, is probably of more interest to me than most people). One thing I could fault it on is that they saw fit to include a bunch of Mario hacks but not Super Mario Bros 2 (either version) or 3, but still. It's a good cart!
Could it be improved, though? Someone certainly thought it could, because here we have: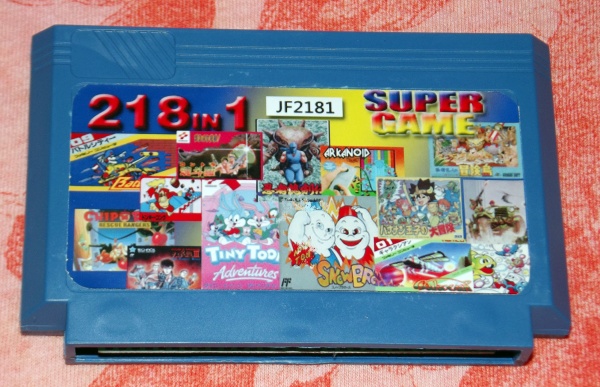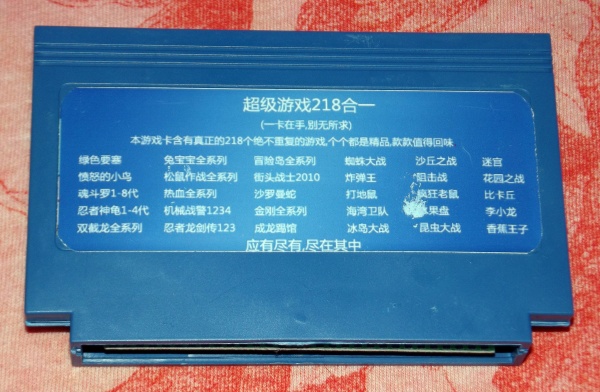 The JF2181 218 in 1 Super Game! Basically the same cart again, but with twenty more games added to it. The manufacturers in this case are unknown - there's a big space where Renshun Technology's name used to be in the menu, so presumably it wasn't them, but other than that it's mysterious. And blue. And made of cheaper plastic.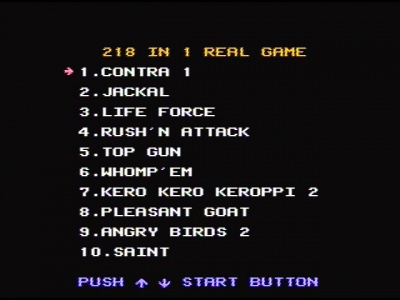 I won't bother with a full game list this time as it's so similar to the cart above; a few have been rearranged as well as new games added, so the first 10 now looks like this:
CONTRA 1
JACKAL
LIFE FORCE
RUSH'N ATTACK
TOP GUN
WHOMP'EM
KERO KERO KEROPPI 2
PLEASANT GOAT
ANGRY BIRDS 2
SAINT
The new games here are all pretty interesting: we have Kero Kero Keroppi 2, actually the English fan translation (version 0.9, no less) of that game, "Angry Birds 2", an Angry Birds-themed hack of New Zealand Story, and... Pleasant Goat!
Yep, it's a hack of the German version of Banana Prince featuring the popular Chinese cartoon character. Of course it is. The new sprites are actually pretty cute; unfortunately they have slightly ruined the game by attempting to pull the standard hacker tactic of making it start on level 2-1 (to make it look less obviously like the original game), because it actually sends you back to level 2-1 every time you die, meaning you effectively have to complete the whole game in one life or reset and go back to the password screen each time. Which is a shame :( If it's ever dumped I'd quite like to hack the hack and try to fix it. Still, at least the original Banana Prince is on here too.
Everything from there on is the same as the 198 in 1 (aside from those games that were plucked out and moved to the first page), until you reach no. 202, where we find the remaining 17 extra games tacked onto the end:
SILK WORM
SD FIGHTER
CHASE H.Q 2
FERRARI
TEMCO WORLD CUP S
MARIO 16
MARIO MISSING
HOME ALONE 2
MICKEY MOUSE 5
DISNEY 2
GOLF
PACMAN
JOUST
NUTS AND MILK
POOYAN
BALLOON FIGHT
KUNG FU
"Silk Worm" here is actually the untitled 2003 Iraq War-themed hack of that game (featuring George W. Bush, naturally); SD Fighter is just Mighty Final Fight again, Mickey Mouse 5 is Mickey's Adventures in Numberland, Disney 2 is Doki Doki Yuuenchi and everything else is what it says it is.