Hey, it's been a while! Sorry about that. But I'm back! With one of the countless weird handhelds that are cluttering up my house at the moment... the PGP 256!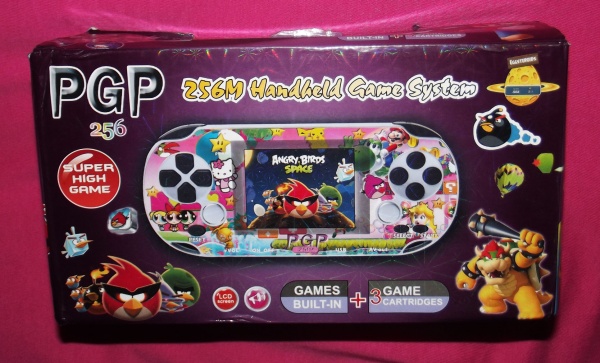 With super high game! And Bowser! I do quite like this package design, though. I like purple. And I've always had a soft spot for that font they used for the "256M Handheld Game System" text. Hey and the "256" is in Georgia and it's rainbow coloured, both of which featured heavily in, like, every website I made in the late 2000s. Whoever designed this package is totally after my own heart. Or maybe it was designed by me in 2008 on some alternate timeline and it somehow crossed over into this world in some freak convergence of universes (thus explaining why I've never seen another one for sale). Whoa.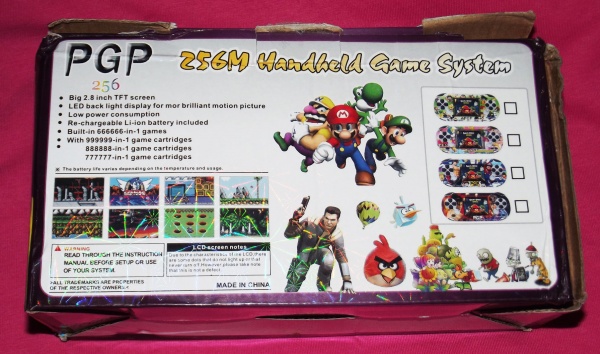 The back... is sadly more generic. Screenshots of games that mostly aren't actually on here, more stolen artwork and some text which mostly actually is true and makes sense (aside from the game counts).
So! If you haven't guessed, this is one of many (many) clone handhelds doing the rounds at present, which each claim to have hundreds of thousands of games built in (all lies, of course) and come with one to three cartridges boasting equally ridiculous game counts.
The history of these is pretty messy; my original understanding is that they were derived from and compatible with the FC-3000 from Jungletac, a handheld capable of playing Famicom games on its own proprietary cartridge format, but (for reasons I'll get into later) this obviously isn't the case, at least not anymore.
One of the earliest such consoles was pretty much a knockoff of Jungletac's OneStation, albeit called the "Digital Dragon system" on the packaging and "MagicStation" on the console itself (although possibly some earlier revisions still said "OneStation"), and the built-in games menu resembled one from a OneStation cart. Later came the GB Station series which resembled the GBA SP, and then the PSP-imitating PVP (Play Vision Portable) Station which set the standard for dozens of P(something)P consoles to follow. To begin with they were all Famicom clones, but later Mega Drive clones were produced in the same format, and there are even a few GBA-based ones doing the rounds now.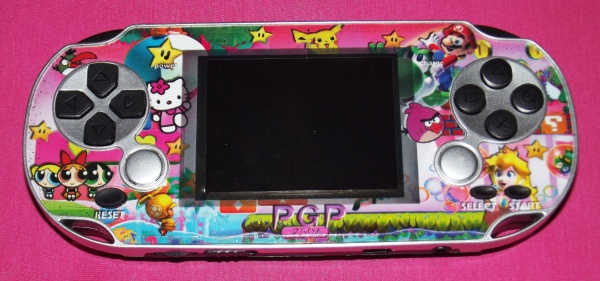 This one is a Famicom clone and follows resolutely in the PVP's footsteps, going for the name "PGP" and taking its inspiration more from the PS Vita (although it isn't an exact copy, I'll give them that much) but the manufacturers have also opted to add a cute sticker featuring all manner of copyrighted characters (both it and the screen are covered by a plastic protector with a bad habit of falling off). Other variants are available if this one isn't your bag; you can see a few more on this alibaba page, including a snazzy Tekken vs Fist of the North Star edition.
The screen is actually one of the better ones I've seen on anything; inevitably it doesn't run at the native NES resolution so there's a bit of stretching going on, but it's nice and bright and actually puts the LCDs of considerably more expensive and legitimate hardware to shame. But, sadly, of course, this is a clone, so it can't all be good news, and the fatal flaw here is the sound. Honestly I'm not sure if I have a faulty unit, or if they're all this bad; it's just really scratchy and distorted and unpleasant, even through headphones.
Unlike many similar consoles, this doesn't come with an AV cable and has no TV-out support whatsoever, so you're limited to playing it on the console's screen; it uses a rechargeable battery compatible with Nokia's BL-5C (which has become something of a standard among Chinese console makers lately) and there's a dubious charger included, although fortunately it has a standard Mini USB port so you can charge it from something more reputable. There was also a pouch included in the box, which is, you know, nice.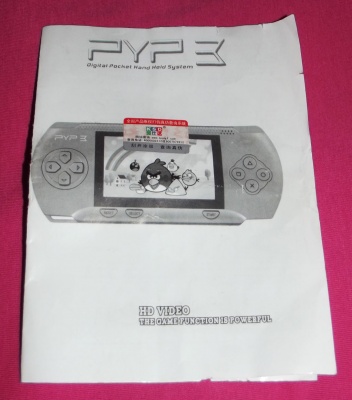 There was a manual included as well, but it's both for the wrong console (something called a "PYP 3", although the text refers to a "16 bit NBS" as well) and in Indonesian, so it's not too much use to me... except for the sticker on the front, which reveals the company behind this to be "KSD", short for 凯仕达 (Kaishida), short for 深圳市凯仕达高峰科技有限公司 (Shenzhen Kaishida Summit Technology Co., Ltd.), and also provides the URL of their (musical, be warned) website. Kaishida seems to mostly specialise in dance mats, and they don't list anything like this at all anymore, so it's probably fair to say Kaishida had nothing to do with the system aside from maybe the package design.
Who actually did make it is something of a mystery; many of these systems can be found listed on the website of Shenzhen Nanjing Technology, of Famicom RPG infamy, from the common GB Station and PVP lines to more original stuff like the Game Prince and NJ series, plus the amusingly-named "NBS" which shook things up a bit by ripping off Nintendo's DS instead of the commonly cloned PSP family. However many of those consoles also appear on the website of Jncota among other companies, so it's really hard to say where they originated from in the first place; and in any case neither company's site lists anything like the PGP. The company whose Alibaba page I linked to previously, Guangzhou Toycenter Toy Firm (which uses the brands Digiking and Zhanglong), seems to be a distributor for all kinds of handhelds including those known to be from other manufacturers, so I doubt they're behind it; but they may have had something to do with its design. who knows!
Regardless of who made it, they were generous enough to bundle the console with three tiny cartridges: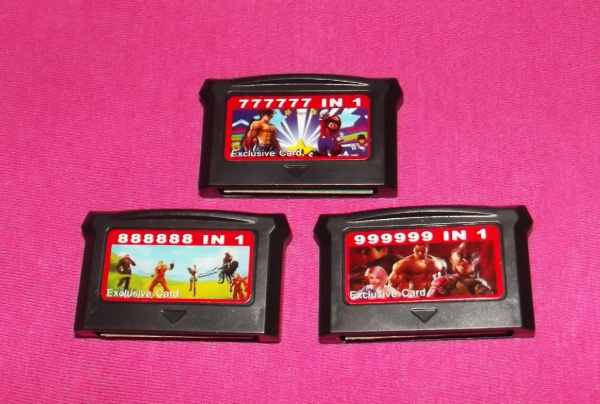 Of course, they don't have anywhere near the stated game count (and neither does the console itself) but it's nice that they were included, right? Here's a hastily shot video of one of the menus (and yes the sound really is that bad, it's not a problem with the video):
The other menus have different graphics but identical music and animation. And there's a reason for that! A reason that will become apparent if you take a look inside the cartridges: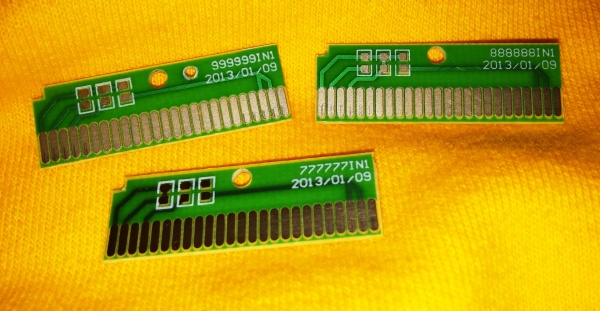 ...but there's... nothing here?
that's right! These so-called "cartridges" are nothing more than a trigger for different, already-built-in sets of games! Are you shocked? I was shocked. No wonder they're called "Exclusive Card"s - if you tried to use them with another, ostensibly pin-compatible console (of which there are many), nothing would happen! Or rather, they might trigger other sets of built-in games on those consoles, but you aren't going to be playing the PGP's games on your PXP or PZP or P☆P, because they are forever trapped within the confines of the PGP. And I always wondered why no one was selling cartridges for such a seemingly prevalent bootleg gaming format; because the cartridges are all LIES, that's why.
I actually have seen cartridges sold separately labelled as "GB Station", so it's possible some earlier, similar systems really did have real cartridges containing honest-to-god ROM chips before they resorted to this kind of trickery; hell, maybe the newer ones still have this functionality, and real carts just use different pins to the fake ones. Probably not, though.
So, now we've established Santa isn't real... but we can at least take a look at the contents of his sack. And by that I mean the games on here. Of course. I'll list the unique games built-in and those "on" each "cartridge", but obviously I'm not listing the 100,000s of repeats each time, because that would just be silly.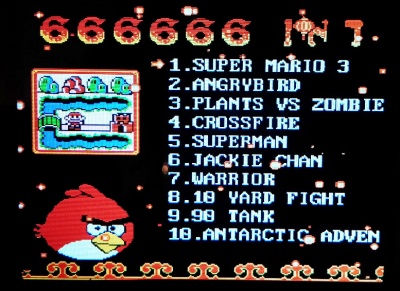 SUPER MARIO 3
ANGRYBIRD
PLANTS VS ZOMBIE
CROSSFIRE
SUPERMAN
JACKIE CHAN
WARRIOR
10 YARD FIGHT
90 TANK
ANTARCTIC ADVEN
ARABIAN
BALLOON FIGHT
BASE BALL
BINARY LAND
BIRD WEEK
BOMBER MAN
BOMB SWEEPER
BRUSH ROLLER
So the "666666 in 1" games built in turns out to be a more modest 18; of interest here are Nice Code's ports of Angry Birds and Plants vs Zombies, plus one other random game of theirs, "Warrior" (which I can't find a video of but it's basically a reskinned version of this one). Super Mario Bros 3 is the hacked version which lets you give yourself any item, which makes it considerably easier; we also have CrossFire, an obscure old Famicom game by Kyugo which has gained a sudden resurgence in bootleg popularity lately thanks to the identically-named online game, and homebrew game Bomb Sweeper which seems to have made its way into multicart makers' romsets probably thanks to its close stylistic resemblance to early Nintendo titles.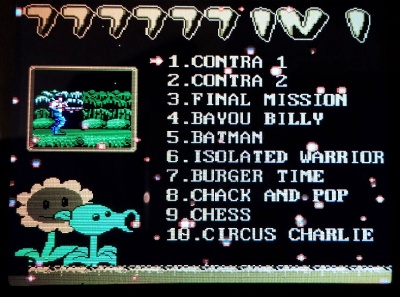 CONTRA 1
CONTRA 2
FINAL MISSION
BAYOU BILLY
BATMAN
ISOLATED WARRIOR
BURGER TIME
CHACK AND POP
CHESS
CIRCUS CHARLIE
CLU CLU LAND
COMBAT
DEFENDER
DEVIL WORLD
DIG DUG 1
DONKEY KONG 1
DONKEY KONG 2
The "777777 in 1" (real count: 17) is more standard, although Bayou Billy isn't often seen on multicarts. "Chess" is really Gomoku Narabe and "Donkey Kong 2" is Donkey Kong Jr, if anyone was wondering.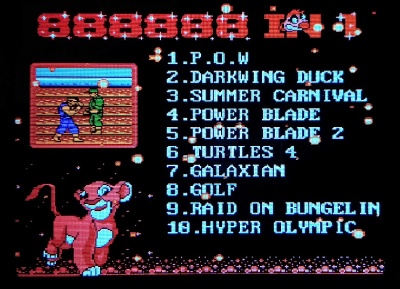 P.O.W
DARKWING DUCK
SUMMER CARNIVAL
POWER BLADE
POWER BLADE 2
TURTLES 4
GALAXIAN
GOLF
RAID ON BUNGELIN
HYPER OLYMPIC
HYPER SPORTS
ICE CLIMBER
JOUST
KARATEKA
LODE RUNNER
LUNAR BALL
MACROSS
MAGIC JEWELRY
The "888888 in 1" really has 18 games and WHOA HEY IT'S RECCA just sitting there in the list as "Summer Carnival" like it's nothing. That game alone totally makes this thing worthwhile.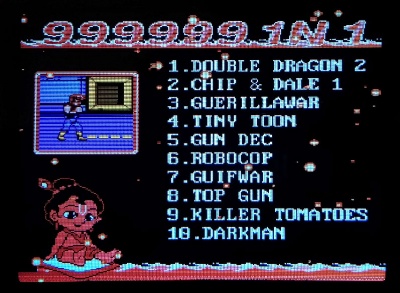 DOUBLE DRAGON 2
CHIP & DALE 1
GUERILLAWAR
TINY TOON
GUN DEC
ROBOCOP
GUIFWAR
TOP GUN
KILLER TOMATOES
DARKMAN
ADVENTURE ISLAN
DONKEY KONG 3
DONKEY KONG JR
EXCITE BIKE
EXERION
F1 RACE
FORMATION Z
FRONT LINE
GALAGA
Finally, the "999999 in 1" (real count: 19). "Guifwar" is an Iraq war-themed hack of Silk Worm I've mentioned before here; everything else is pretty standard. (Donkey Kong Jr is DK Jr. Math, by the way.)
So, that's the PGP! A slightly unusual variant in a sea of generic PSP knockoffs, and probably not something I'd recommend buying - unless you really really want to play Recca on the cheap - but it's cute and interesting (you know, just like me) it's just let down by its piss-poor sound and inherent lack of expandability (again, just like... me?). Next up: something else!