Usually, on this blog, I write about things I find interesting. Unusual or unique items which aren't widely covered elsewhere, featuring games not commonly seen. The RS-1, on the other hand, is something I've ignored for a long time: it has an uninspired, copied design, contains a set of common NES games with repeats, with a handful of seen-em-before Chinese originals and hacks scattered in. It's also one of the more ubiquitous bootleg handhelds on the market, its variants being extensively sold on every online marketplace for at least seven years, widely reviewed and dissected by many before me.
So, why am I covering this? The reason I started investigating it to begin with was my desire to cover one of its successors – the idea was I'd devote a paragraph or two to this device, and then launch into what I REALLY wanted to talk about. But as I researched it, I found a console with a multitude of variants and a highly confusing lineage that was actually pretty interesting in and of itself. So I bought one. But I'll come to that later.
To begin with, a brief detour.
In 2006, console manufacturer and game developer Jungletac released the OneStation. This was a unique handheld concept whereby the console itself only housed the screen, speaker and controls, but each cartridge contained a full system-on-chip along with its ROM. This allowed them to release a variety of cartridges using completely different architectures, including NES, the enhanced-NES VT09, Sunplus 16-bit and Mega Drive (in the form of an adapter allowing the tiny MD Max Mega Drive cartridges to be played). However, promised media player and camera attachments never materialised, and the majority of the cartridges released for it after the initial batch ended up being simple Famicom multicarts bundled with a NES-on-a-chip.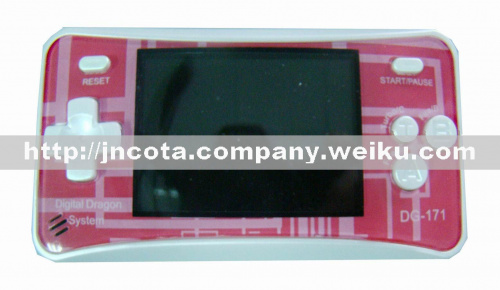 source: jncota @ weiku
The OneStation was fairly popular, and naturally inspired imitators. One of the earliest was the Digital Dragon System from console- and cartridge-maker Jncota, released under their "PK-Dragon" brand. The Digital Dragon System abandoned the OneStation's multi-system concept, instead being a dedicated Famicom clone handheld with its own smaller cartridge format, each cartridge now just containing a ROM chip. From here, Jncota would put out consoles copying the designs of more mainstream systems, like the GB Station and PVP Station, and others would copy Jncota's copies, and both Jncota and their copyists would transition to using completely fake cartridges and the whole thing would get slightly out of hand.
But we're not here to talk about that whole mess today. We're sticking with those OneStation copycats for a while longer.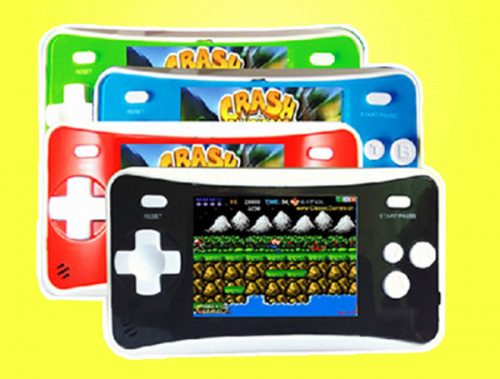 source: some dead taobao listing
At some point, another OneStation-clone Famiclone appeared on the market, with its principal difference (at least frontally) being a solid coloured faceplate instead of the patterned one found on the original. Information on this system is EXTREMELY hard to find, and it doesn't seem to have been sold very widely or for very long. The only photo I could track down, other than that promo pic above, was this one from difuno on photobucket, revealing the model number M100 (the same as the original OneStation) and an 86-in-1 built-in game set including the likes of Super Contra, Super Mario and Angry Birds (likely Nice Code's port, which would have been fairly new at this point). The lack of any more information, or pictures from other angles, leaves me unsure whether it featured a cartridge port or not, or if the rear design was changed at all.
But then!
Sometime around 2012, yet another OneStation-like was released: our unlikely protagonist, the Game Prince RS-1. Like the M100, it mostly reproduced the familiar OneStation design in a series of solid colours, but took a couple of new departures: a PlayStation-styled D-pad in place of the indented plus-shape of the original, and the front panel being simply painted (with the screen left unprotected) rather than having a separate faceplate. This machine lacked any kind of cartridge support (real or fake), though, and the back panel of the OneStation design was completely replaced with a more compact but also uglier and incongruous piece. Interestingly, some online sellers continued to use the promo pic of four M100-type consoles with a white RS-1 pasted over the top, which seems to cement the idea of the RS-1 as a successor to the M100, perhaps introduced to reduce costs or dodge Jungletac design patents.
This machine is believed to be a product of Shenzhen Renshun Technology; early units featured their name on the manual, and it has been (and still is) listed by them on various wholesale and retail outlets. Its "RS-1" designation presumably comes from the initials of "Ren Shun", common to their other products. However, it has never had their well-known CoolBoy/CoolBaby/酷孩 (Kuhai) branding applied to its packaging or on the console itself, probably due to its early release.
I say "believed to be" because it's actually unknown how much of the design and manufacturing process for each of Renshun's products was handled in-house by them, as opposed to contracting out to some more established manufacturer or branding an existing product. Renshun in general and what actually constitutes "a Renshun product" is a bit of an enigma, not helped by the propensity of some Chinese sellers to list everything as "CoolBaby" regardless of its origins.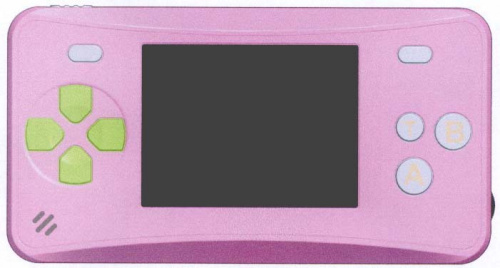 source: CNIPA
In fact, in the case of the RS-1, I was able to locate a Chinese patent registration from June 2012 showing a console of identical design, referred to as the "ES-8 MINI-PSP". I believe this is probably the original manufacturer/designer's designation, before it was sold to Renshun for release as the RS-1. Of course, it could also have been a pre-release designation from Renshun themselves; the patent registration only lists the designer's name and not the company they worked for, so it sadly does not solve that particular mystery.

video by indask8, 7 Oct 2012
The first version of the RS-1 is as you see in the 2012 video review from indask8; an 89-in-1 system featuring a reasonable number of non-repeated games, plus a few of the standard different-starting-level type repeats tacked on the end. The game set seems to be similar to that of the M100, if the first page is anything to go by. Nice Code's Angry Birds port is there, but strangely their Plants vs Zombies is not, despite the box using Plants vs Zombies art and those games usually coming as a pair. Apparently this console was sourced from DealExtreme, who were probably one of the first to sell it into the international market (they had also been a key supplier for the OneStation back in its day).
The following year, a new revision appeared:

video by JumpMen Podcast, 24 Feb 2013
The packaging here looks ALMOST identical, except, for some reason, they removed the Chinese text from the "Game Prince" branding. I'd almost say it was done to make it more export-friendly, if not for the fact the product name is still written in Chinese and pinyin with no English in sight...
The bigger difference, though, is the menu system; the game selection seems to be identical, but the menu looks completely different, and a little vaguely-Super Mario Bros-like title screen has been added, offering a Chinese or English language selection.
Unfortunately, this particular version suffers from a sound problem that plagued a few Famiclone handhelds of its vintage, whereby the noise channel makes a harsh grating sound which really does the games no favours.
Then, about a year later, THIS appeared: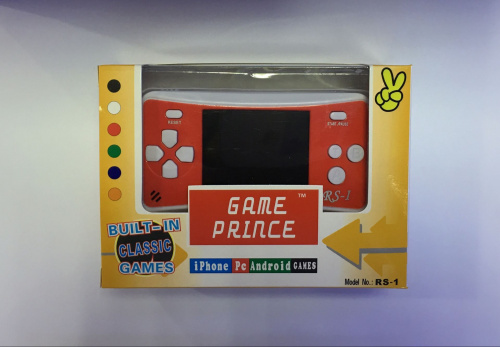 source: aliexpress seller himm store
This version has entirely different packaging, retaining the "Game Prince" name but otherwise mostly redoing everything; no longer do we have a big box with stolen Plants vs Zombies and Angry Birds art splashed all over it, instead it's compact, with a window for the actual system, and some vaguely misleading claim about having iPhone, Android, and PC games. There's also a lot less Chinese text on this packaging, meaning it was probably intended primarily as an export model. And at that, it seems to have succeeded – you can still buy it on just about every online marketplace to this day.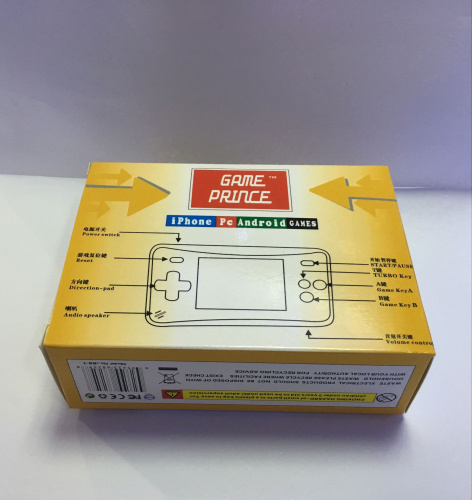 source: aliexpress seller himm store
The diagram on the back of the box actually seems to show the M100, with the connected D-pad and volume control on the bottom (where the RS-1 has it on its side), further reinforcing the lineage between the two.
Inevitably, having been on the market for so long, this version has been through a few revisions of its own...

video by lmull3, 20 Nov 2014
The unit in this video - probably one of the earliest, given the video's 2014 date - has the model number ES-8 on the box. This is the same model number from the original patent, reinforcing my suspicion that this version comes from the original manufacturer or some other distributor, rather than Renshun. The "RS-1" text on the console remains, but is now printed in a squarer font rather than the scripty original. The ES-8 number stuck around for a few printings of the box before being changed to RS-1; presumably since they'd never actually produced an "ES-8" marked console, they eventually decided to just standardise on the better-known RS-1 designation. The square-font "RS-1" on the console is very rarely seen, though, and seems to have been quickly reverted back to the previous design.
The most significant difference in this repackaged RS-1, though, is what's built in. The menu system is almost the same as the previous model, but the game count is much higher – no longer a measly 89(ish) games, we now have a massive 152! Ish. While many more repeats were added, this version also brings some pretty good additional games, like Batman, Doki! Doki! Yuuenchi and, uh, the Cony version of Street Fighter. And Plants vs Zombies is finally here, having been promised but not delivered back in 2012.

video by Nysek 「」, 12 Jun 2016
While the 2014 version seen in lmull3's video retains the Chinese/English language option, by 2015 it was gone, as you can see in the menu video above and this later review. In its place was a blank space and an exhortation to "prass the START key". So, despite going to the trouble of adding Chinese in the 2013 version, and updating it in 2014, by 2015 they'd unceremoniously yanked it back out. Presumably this was done to emphasise the export-friendliness of the repackaged model; some listings I've seen make a big deal out of it being "all in English".
In any case, as mentioned, this version seems to have been a success. It has been sold on Amazon, eBay and Aliexpress by many sellers for many years, apparently untroubled by litigious copyright holders, and has attracted many glowing reviews. To my jaded eye, it never seemed like anything that special, but I suppose its compact, kid-friendly size, coupled with its low price, reasonable build quality and a decent not-too-exaggerated game set all added up to make it a hit in a world of cheesy 9999999-in-1 PSP knockoffs (hi again Jncota).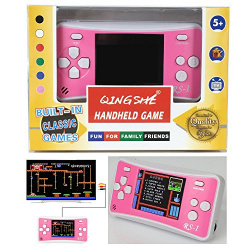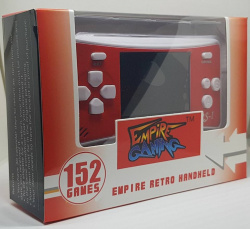 sources: wolsen store @ aliexpress, dead amazon listing, empire gaming @ facebook
Naturally, it has also been rebranded by others; Wolsen have a version in completely different packaging with their logo printed on the console itself, while Qingshe have released two different packaging variations (and they added a pink version!) but with no additional branding on the console. In South Africa, it was sold by a company called Empire Gaming as the "Empire Retro Handheld", which may become relevant later.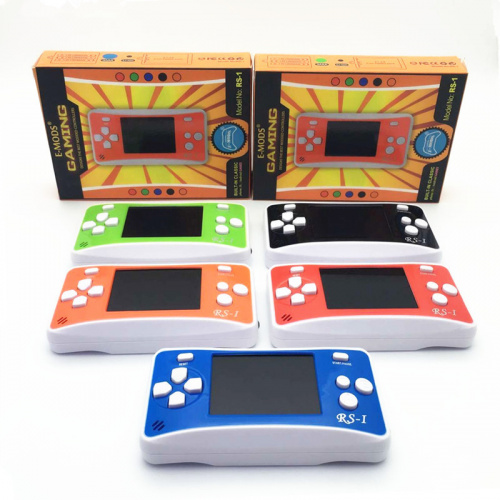 source: 深圳市福田区新乐电子商行 @ 1688
It was also picked up for distribution by a company known as E-Mods or E-WOR (primarily a modded controller maker, as the former name might imply), who sold it in a completely redesigned packaging, but with the same game set. For a while.
At some point, evidently, E-Mods decided they wanted their RS-1 to have an advantage over and above those common-or-garden RS-1s, and that's where the unit I bought comes in. But that, I've decided, will be a post for another day, because I've gone on too damn long already.
Update 1st September 2019: Added info from the patent registration