I'm wrapping this series up with a look into an variant on the later RS-1S (or ES-9S) revision of the venerable RS-1 NES clone handheld. I mentioned in my previous post that the Zhishan GB-9X was probably the RS-1S sibling worth getting, because it restores some functionality dropped from the 1S/9S, and even comes with some additional features not seen on any prior RS-1. So I got one! How is it?
Packaging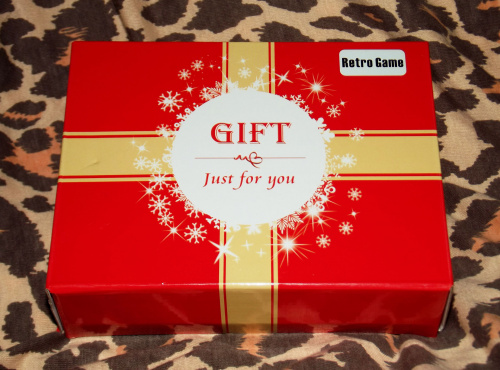 Here's what arrived: a gift! Just for me! Not much indication of what's inside, other than that little "Retro Game" label up there. This seems to be standard for Zhishan's packaging; they use generic designs just saying something like "handheld game" without anything really depicting or describing the product itself. These things were never intended to be sold on store shelves, only online marketplaces, so I suppose it saves them some design work on a box which will be rarely looked at.
The side at least lists the model number, plus the colour options. I wanted the fetching Tiffany Blue originally, but unfortunately they were sold out, so hence I ended up with the black & red Hell Edition (*not really called that).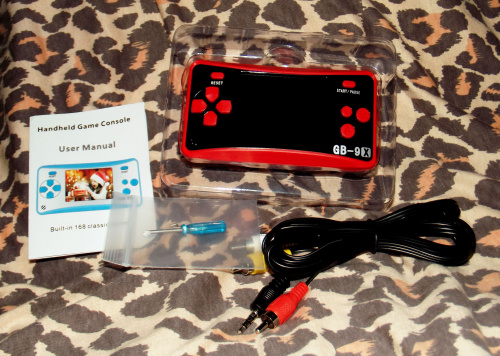 And here's what you get! The console, of course, plus a screw and screwdriver for the battery cover (standard for the RS-1S), a TV out cable (certainly NOT standard for the RS-1S, since it had no TV out), and a small manual.
The manual itself is actually unique to this version, and provides some generic advice. It's probably used for other Zhishan consoles too, since it even offers an excuse for repeats, which this console doesn't actually have.
Hardware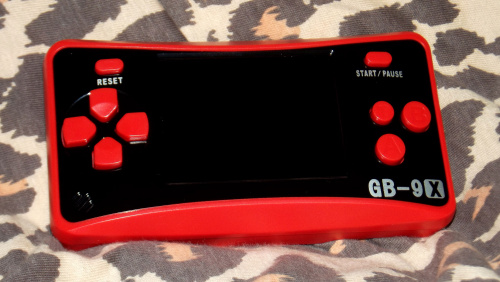 And here's the console! Of course, it's almost identical to the RS-1, but looks pretty nice with its shiny black front. You can't really see where the screen is in these photos, as it's black too, but that'll become clearer later.
The RS-1S/ES-9S had lacked a volume wheel, replacing it instead with a simple sound on/off button, but the GB-9X brings it back. The dropping of physical volume controls is probably my greatest beef with modern cheap handheld designs, so I'm glad to see it return here.
With the volume wheel restored, the spot once occupied by the sound button is once again reverted to the semi-useless "T" turbo-A as seen on the RS-1, and the rest of the controls here remain the same. Unfortunately, that means the D-pad is still the uncomfortable split type, A and B are still reversed, and there's still no select button. But, hey, that's what you get from the RS-1 family.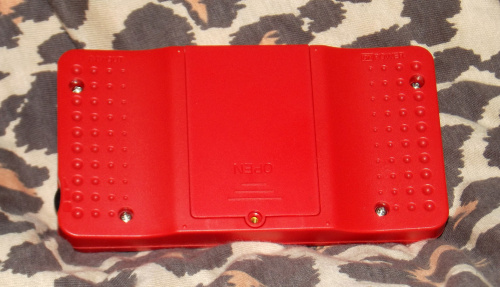 On the back, it's almost the same as the RS-1, but with the addition of a screw hole to keep the battery cover on. Makes it safer for the kids, you know. Don't want 'em swallowing those triple-As.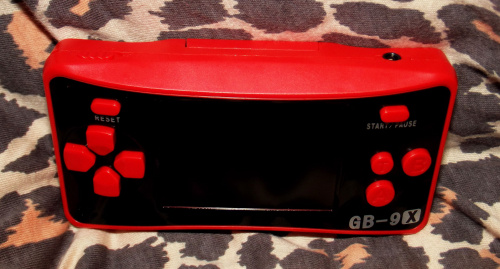 On the top, we can see the other thing the GB-9X brings to the table over and above the RS-1S/ES-9S: the TV-out port is back! And, not only that, it doubles up as a 3.5mm headphone jack! Take that, Apple! Interestingly, that means the GB-9X has a unique mould, since it couldn't simply reuse the RS-1S (lacking a jack and volume wheel) nor the RS-1 (lacking the battery screw hole, and with a 2.5mm jack rather than a 3.5mm one). It seems like a reasonable amount of work went into this variant on the hardware side.
Since the jack serves this dual purpose, it means the LCD screen now doesn't turn off when a cable is inserted, even when you're using TV out. The TV out cable itself is equipped with both left and right audio connectors, but both channels are the same what with the NES only being capable of mono sound in the first place. The volume wheel also now affects audio output through this jack, and it can go up REALLY loud when using headphones. So, uh, be careful you don't blow out your eardrums or anything.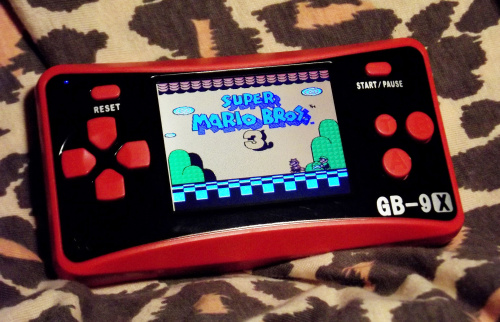 And here it is switched on! The screen seems brighter than my RS-1, although I'm hesitant to make any blanket statement about screen quality between models, since I have no doubt the factory uses different screens in any and all of its handhelds depending on price and availability, rather than matching a specific part to a specific unit.
The brightness in this particular screen actually makes some of the palette issues with the hardware more apparent, making things seem a bit washed out in certain games. It's not a problem over the TV out though. Unlike my other RS-1, there's no screen tearing, but some jerkiness is apparent when scrolling, maybe due to a poor refresh rate. You win some, you lose some. Such is the nature of the great LCD parts bin lottery.
There's also another new addition in the form of a small blue power LED. I can't say it's massively necessary, since the screen is always visibly on when the unit is on, but it's a thing.
Semi-teardown
Let's take a look inside:
The PCB has, like the case mould, been redesigned specifically for this model to accommodate its unique features, rather than attempting to hack them onto an existing RS-1 PCB. Evidently it was designed in November 2018, and according to Zhishan's website it first went on sale in January 2019. I've also taken a picture of the rear of the front plate to show that sets of buttons are connected together, which was not the case on the original RS-1 (and I didn't take a picture of that, but the buttons did all fall on the floor when I took it apart).
Menu
I've captured a full runthrough of the menu plus a few sample games here:
No title screen nor any language select, you're just launched straight into the main menu.
This is a fairly common style of menu that you'll often find in Famiclone handhelds, often in "PVP Station" type products, and almost always accompanied by Mighty Final Fight music. The cool dude on the bottom left is Jake from Totally Rad, which is actually not on here.
While there's no test screen that I could find, if you hold down Start+B and press A on the menu, it will crash; this may be a remnant of a removed/broken test function, since other consoles do have a test screen accessible through a similar button combo.
Note I recorded the video in mono due to my own oversight, despite the console having separate left/right audio outputs; however, as I mentioned previously, both channels are identical since the NES is a mono system... I even rerecorded some footage in stereo and compared the waveform of each channel just to make sure they were the same.
Unfortunately, as you may be able to hear if you're familiar with the soundtracks showcased in the video, there's still no triangle channel in the audio, as with the prior RS-1. For me that's the biggest flaw with this unit, and so many others based on the same hardware. But the Law of Clone Consoles states that each clone must be somehow disappointing, and I suppose with this triangle channel issue they've managed to mass-produce the same disappointment, and therefore avoid having to engineer a new one into each product. That's efficiency.
Games
So how about those games? The game selection (and menu) seems to be identical to the RS-1S/ES-9S, and is probably the strongest point of this unit. They've included a lot of big games, with the flash chip inside clocking in at 256 megabits (32 megabytes), four times the size of the common 152-in-1 RS-1 variant.
Here's the list:
SUPER MARIO BROS2
SUPER MARIO BROS3
SUPER MARIO WORLD9
SUPER MARIO 14
SUPER MARIO BROS6
DR MARIO
MARIO BROS
MARIO IS MISSING
MARIO'S TIME MACHI
SUPER MARIO BROS
SONIC
ALADDIN 4
KRION CONQUEST
MEGA MAN3
MEGA MAN5
EARTHWORM JIM3
BART VS WORLD
BATMAN RETURNS
TMNT2
SUPER CONTRA
TOM JERRY3
DRAGON BALLZ2
THE FLINTSTONES
GI JOEATLANTIS FA
GI JOE
WORLD CUP
THE JETSONS
KINGOF FIGHTERS 9
MORTAL KOMBAT TRI
SPIDER MAN
STREET FIGHTER V
TEKKEN3
KIWI KRAZE
ADVENTURE ISLAND2
ADVENTURE ISLAND3
ALIEN 3
ALTBEAST
ANGRY BIRD 2
BATMAN
KICKLE CUBICLE
PACMAN
MITSUME GA TOORU
BUBBLE BOBBLE 2
CRAZY CASTLE
CAPTAIN AMERICAN
CHIP DALE2
CHIP DALE1
CONTRA FORCE
WHOMP EM
DOUBLE DRAGON2
DOUBLE DRAGON
ROCKIN KATS
DOUBLE DRAGON3
POCKET MONSTER
TINY TOON2
GUERILLA WAR
CROSS FIRE
JUMPIN KID
JACKIE CHAN
JOE MAC CAVEMAN N
JUNGLE BOOK
KAGE
LITTLE NEMODREAM
MIGHTY FINAL FIGH
MONSTER IN MY POC
NINJA GAIDEN3
PLANTS VS ZOMB
BUCKY O'HARE
TETRIS2
P O W
POWER BLADE2
POWER RANGERS2
ASTYANAX
PUNISHER
ROBOCOP
ROBOCOP2
SIMPSONS
SNOW BROS
CYBERBALL
STREET FIGHTER 20
SUPER C
TURTLES FIGHTER
KUN LAND
TOKKYUU SHIREI SO
TOM JERRY
GUN NAC
1942
BOMB SWEEPER
WORLD CUP SOCCER
ADVENTURES OF LOL
FANTASY ZONE
CONTRA
RBI BASEBALL
BADMINTON
GOONIES
ICE HOCKEY
HELLO KITTY
ONYANKO TOWN
PENGUIN KUN WARS
PRO WRESTLING
ROUTE 16TURBO
SON SON
RAD RACER2
SEICROSS
LUNAR BALL
ANGRY BIRD 3
PACMANIA
WRECKING CREW
SOCCER
ADVENTURES OF DI
ANGRY BIRD
SUPER CHINESE
FLIPULL
GRADIUS
GYRUSS
ADVENTURES OF LO
KUNG FU
ROAD FIGHTER
SOLOMON'S KEY
TRACK FIELD
ARKANOID
ASTRO ROBO SASA
BOMBER MAN
LODE RUNNER 2
DIG DUG2
ELEVATOR ACTION
EXEDEXES
F 1RACE
FRONT LINE
GALAGA
GALAXIAN
POOYAN
STAR FORCE
VOLLEYBALL
ARABIAN
BATTLE CITY
CIRCUS CHARLIE
DONKEY KONG 3
DONKEY KONG JR
EXCITEBIKE
MS PAC MAN
POPEYE
TENNIS
URBAN CHAMPION
BIRD WEEK
ADVENTURE ISLAND
MICKEY MOUSE
MUSCLE
TRANSFORMERS
TWINBEE
GYRODINE
BWINGS
DONKEY KONG
BABEL
BINARY LAND
BURGER TIME
MACROSS
CONTE ENEGY
MUSIC MOMENT
SPELUNKER
VOLGUARD 2
BENTHAL
FORMATION Z
MILLIPEDE
NUTS MILK
SLALOM
DEFENDER 2
ICE CLIMBER
I won't really go into the games in detail, because, I mean, these are all regular ass games! Good ones! You probably know them already! Most of them are just the normal versions of the games, too, there are few weird hacks like on the RS-1; at most they might have the copyright or 2-player mode removed, but many are fully untouched. That actually makes this thing less interesting for me, because, I mean, I live for the weird shit, but in terms of actual games you might want to play it's a very strong lineup.
Notably, both Super Mario Bros 2 and 3 are here, which is pretty cool; usually these things only have Super Mario Bros 1 and a selection of Mario-themed hacks. Of course, some of the hacks are here too, for good measure. AND the two Mario edutainment games.
There are a surprising number of bootleg originals and ports of 16-bit games; Hummer Team is particularly well-represented with Sonic the Hedgehog, Aladdin 4 (the MMC3 hack with broken music, unfortunately), Earthworm Jim 3, Dragon Ball Z 2 and Tekken 3 (the cut-down MMC3 hack). We also have Tom & Jerry 3 by Dragon, "King of Fighters '99" (a hack of Rex Soft's KOF '97), Mortal Kombat Trilogy by Cony/Hosekn, and "Street Fighter V" (a hack of some version of Cony's Street Fighter II ports). Also present is the Pokemon-themed platformer "Pocket Monster".
Incidentally, the menu thumbnails for two of the Hummer games are wrong; "Sonic" shows the Adventure Island hack of the same name, while "Aladdin 4" shows the hack of Magic Carpet 1001.
For the most part, the rest of the game set consists of various NES and Famicom games, including a whole bunch not commonly seen on multicarts. Yes the common staples are mostly present and correct, like Double Dragon, Chip & Dale and Mitsume ga Tooru, not to mention of course the set of ubiquitous smaller/earlier titles towards the end (also revealing one other mistaken menu thumbnail, where "Kung Fu" is depicted as Yie-Ar Kung Fu but is actually the Nintendo/Irem game). But there's also plenty of unusual stuff like Jumpin' Kid, Cyberball, Whomp 'Em and Rad Racer 2 (graphically slightly broken here - it's known to have compatibility issues with clones, I wonder if some previous revision of RS-1S was able to play this correctly?). Sadly notable by their absence are the first two Ninja Gaiden games.
We also have Mega Man 3, 5 and witch Mega Man, plus a bunch of late Taito games like The Flintstones Rescue of Dino & Hoppy, Bubble Bobble 2, The Jetsons and Power Blade 2, some of which are the kinds of games that cost a bajillion dollars if you were to actually purchase them. Bucky o' Hare is also an extremely strong choice, and they didn't remove the copyright so it doesn't activate the one-hit-death protection mode.
As mentioned, most of the games are fairly close to their original states; even "Tetris 2" is, unusually, the fully unhacked Tengen version of Tetris, not crudely retitled to "1993 Tetris Game" or something. Bugs Bunny's Crazy Castle is, however, the "Tiny Toon 3 Crazy Castle" hack. Another couple of pretty neat inclusions are the fan translations of Asmik-kun Land (listed as "Kun Land") and Tokkyuu Shirei Solbrain. And Bomb Sweeper is here, a homebrew game by Snowbro which managed to look enough like a classic Nintendo game to find its way into countless bootleg ROM sets.
There aren't many repeats here, but a couple snuck in, probably by accident. Bart vs the World is duplicated as both "Bart vs World" and "Simpsons". A handful of games are also present in multiple regional versions, like Super Contra and Super C, and Adventures of Lolo (JP) and Adventures of Lolo 2 (US), which are actually the same game.
Of course, there's no way a console like this would come out without any 2000s-era weird stuff on it. A grand total of two "classic" Inventor hacks snuck on: "Conte Enegy", a hack of Lode Runner, and "Benthal World", a hack of Sachen's Pyramid. Nice Code is represented with their ports of Plants vs Zombies and Angry Birds (as "Angry Bird 3"), plus a lone original in the form of "Music Moment", an extremely simple game even by their standards. Finally, two more Angry Birds-themed hacks are here, in the form of "Angry Bird", a Moai-kun hack, and "Angry Bird 2", a New Zealand Story hack.
Relatives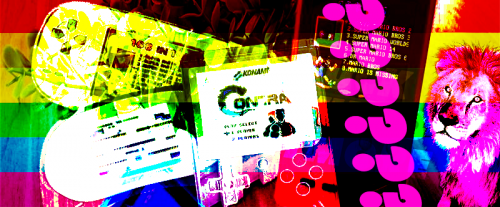 The game set and menu found on the GB-9X, RS-1S and ES-9S are also in turn shared with several other consoles. Some examples include the Retro FC, PVP Game, and ... this other one. I'm not sure what connection those devices have with this one, or if the game set was simply copied between them, but it's a decent set to be reusing in any case. Maybe some of the others don't have the triangle channel issue! (I doubt it!)
Meanwhile, the Powkiddy Retro FC Q3 looks just like the other Retro FC, and has what initially appears to be a similar menu and set of 168 games (with the addition of a Chinese language option), but as you get further through the list there's a much heavier emphasis on smaller early-gen stuff, presumably also having a smaller ROM size to go along with it. The "Q3" variant also seems to have been supplemented by a "plus" version, which again lags behind the GB-9X in terms of ROM size, but interestingly includes a few rare variants of Inventor hacks which were historically mostly seen on ABL consoles. So you could buy a "168-in-1" console, looking identical and bearing the "Retro FC" name, but get one of three different sets of games. Of course! Why should any of this make sense?
Yet another similar-but-different 168-in-1 console is this version of RS-8, also known as ES-16, because why not. As with the RS-1, the RS-8 has TONS of variants which I'm not planning to get into right now (or at all, if I'm honest) (please no), but this particular unit has a similar style of menu and shares some games with the GB-9X/RS-1S set, as well as having a Chinese/English language option like the Q3.
Anyway, enough about... all of that.
Availability
Now, as much as I've talked this up as being the one to get if you're interested in the RS-1S... something happened as I was working on this. First of all, it became clear that the GB-9X was disappearing from the market. Zhishan advertised several colour variants, but when the one I ordered was out of stock, they were only able to supply the red and black version. This wasn't too unexpected, as at that point Amazon only stocked the red and black one too, and the Zhishan store actually just ships from Amazon. I figured Zhishan had overreached, overestimated the sales potential of 5 different colours of this thing and were winding back to a single variant. But, after receiving my 9X, I checked back on Amazon, and found the red and black one was unavailable too. Zhishan's website, meanwhile, has now marked them all as "out of stock". LightInTheBox and sister site MiniInTheBox still claim to have stock for the time being, if you want to try your luck at getting one, but it's definitely on the way out.
Interestingly, it wasn't just the 9X winding down - I couldn't find any listings for the RS-1S or ES-9S on Amazon either. Aliexpress still has a few hanging around, but honestly without a volume control I wouldn't really recommend it. So it seems like the 1S and its variants are possibly ending production, with some remaining stock still filtering through the system, while the original RS-1 still goes strong, and its oddball expanded successor the RS-1 Plus maybe taking the place of the 1S as a sister machine. The 1S was always a strange one, really, branded iPhone-like as an improved RS-1, but in fact lacking significant features from the original despite a stronger lineup of games. So I wouldn't be surprised if the manufacturer had decided to pull the plug on it.
The end...?
And so, this brings my exploration of the RS-1 line to a fitting end. With possibly the high point of the whole family, which, in fact, turns out to be an obscure variant you can't actually buy anymore.
The YouTuber Phelan Porteous has a running thing in his bootleg toy reviews called the "Galaxy Hole", which refers to the absolute incomprehensible mess of toylines derived from the "Galaxy Warriors" series of Masters of the Universe knockoffs, both from original manufacturer Sungold and a whole slew of imitators, maybe-connected-companies and who-even-knows-what. And I feel like the RS-1 and its descendants have led me down a similar path... an RS hole, if you will. The "RS-1" designation began with Renshun, but did they actually create the console? Did they have anything to do with the subsequent international-market releases? Five posts later, I still have no idea!
As I said way back in the first post of this series, this whole RS-1 thing only started as a lead-in to coverage of a subsequent console, the one I REALLY wanted to write about, so no doubt that'll be coming soon. I don't think it has such a ridiculous history of variants, but the contents are way more interesting to me. Anyway, for the time being, thank you for joining me on my journey into this RS hole. See you in the next one!